All the NFTs are shown under the Collectibles tab of the AnCrypto app. However, the app might fail to show some NFTs or correctly show some NFTs on the mobile app. 
The AnCrypto app can detect most of the NFTs using its NFT autodetect feature. 
But if the app's autodetect fails to show any NFT, you can manually add the NFT using the following steps:
Foremost, you need to find the NFT address. To find the NFT address, on OpenSea, for example, open the NFT's

Details

section and select the blue hyperlinked option called

'Contract Address. 

Once you click on the

'Contract Address',

you will be taken to the Contract's Address on Etherscan. Now on the top-left side of the page, you'll see an icon named

'Contract',

on the right side of this you will see a long string of numbers and letters. This is your NFT address. 

Select the

'copy'

icon appearing on the right side of the address to copy it to the clipboard. 

Now open the AnCrypto app on your phone, and select the

Collectibles

button, appearing on the top of the dashboard.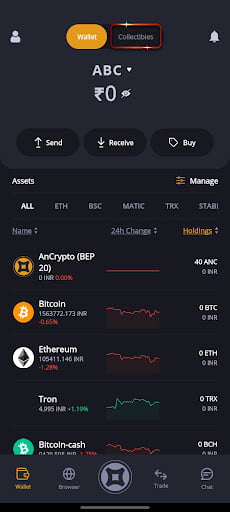 Once you land on the collectable screen, you will see two options:

Add

and

Receive. 
Note: You can receive the NFT by clicking on the Receive button and sharing the QR code.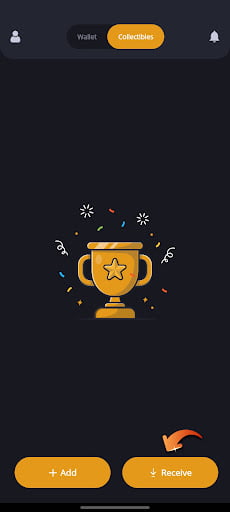 To add NFTs, select the

Add

button. 
On the next screen, select the blockchain on which the NFT is saved.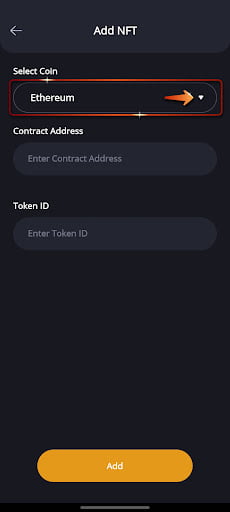 Next, enter your

Contract Address,

and then enter the

Token ID.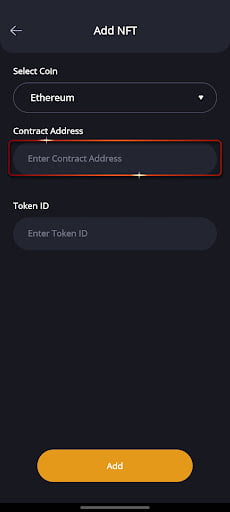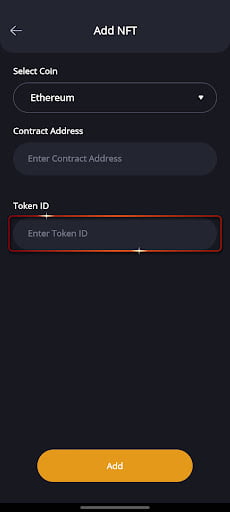 Lastly, tap on the

Add

button, to add your NFTs.